2020 Season Update
---
---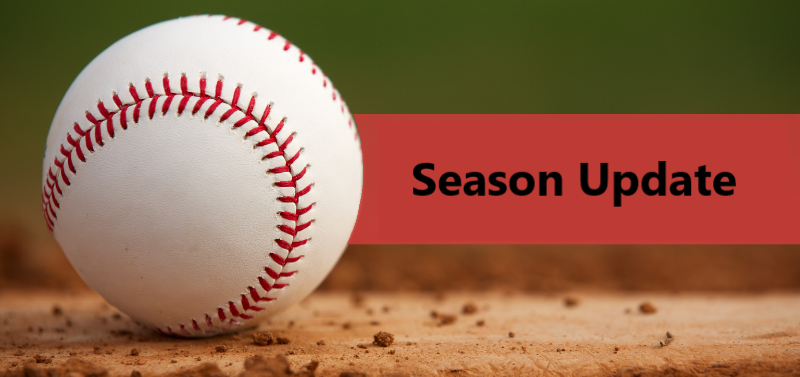 ---
May 22nd, 2020
RDMBA families,
Baseball Alberta has been diligently working on the submission of the return to train protocol, including endless meetings, multiple calls and emails with governing bodies as well as participation in municipal and provincial forums. We are now at the mercy of AHS and the AB Government to approve, deny, or require changes be made to that submission. Please be patient and be rest assured all is being done to ensure players are able to return to diamonds as soon as it's deemed safe to do so.
Thank you, stay safe and healthy and see Baseball Alberta's update below.
RDMBA
Baseball Alberta's Response to Novel Coronavirus (COVID-19)
The safety of our players, coaches, umpires, volunteers and fans is our outmost importance and we appreciate your patience during this time. Baseball Alberta is continuing to monitor the sites below as the public health risk is being continually assessed and updates on COVID-19 can be found at the following links. Please stay home, stay safe and know that we look forward to getting back to playing baseball when it is safe to do so.
Public Health Agency of Canada
Alberta Health Services
Baseball Alberta would like to advise all member associations, teams, leagues, members (players & coaches), umpires and stakeholders to follow Provincial recommendations and not engage in any congregated activity such as practices, games, events or tournaments until September 1, 2020.
At this time Baseball Alberta will not be sanctioning any baseball related activities. Please note that any association or individual that chooses to continue with baseball related activities during this time will be doing so unsanctioned, at their own risk and without insurance coverages in place.
May 22, 2020 UPDATE
The Baseball Alberta Board of Directors and staff's focus continues to be the health and safety of our athletes, coaches, officials, volunteers and fans .We respect the orders and restrictions that have been put in place in our province by our Chief Medical Officer of Health and her team. As such, we have taken a measured approach to resuming baseball activities.
As mentioned in our May 8 announcement, a Return to Train protocols document was under way and is now in the submission process for review by Alberta Health Services and the Government of Alberta. Although Baseball Alberta's restriction of all in person activities remains in place, we await further clarification regarding guidance for organized (outdoor) sport, and we remain optimistic that there will be a Return to Train opportunity this summer.
While we acknowledge that it will not look the same as in past years, we are looking forward to our athletes being on the baseball diamonds. We will be updating our website and social media with information in the event that we have changes to communicate.
Ron Van Keulen
President, Baseball Alberta
May 11,2020
Baseball Alberta Update
Baseball Alberta's Board of Directors has made the difficult decision to cancel ALL in-person Baseball Alberta sanctioned events and activities until September 1, 2020 due to the Covid-19 pandemic.
With the current Provincial Health orders and restrictions in place, such as social distancing, gathering limits and limitations on non-essential travel along with numerous municipal closures, we deemed this to be the best course of action to ensure the safety of our membership. The health and safety of our athletes, coaches, officials, volunteers and fans were our main priorities in arriving at this difficult decision.
"Although this decision will be disappointing to baseball families across Alberta, we felt it was important to provide guidance to our members in these uncertain times. With the warmer weather upon us, we would like nothing more than to be out playing baseball, however the reality is that at this time it is not safe to do so. We must respect the orders and restrictions that have been put in place in our province by our Chief Medical Officer of Health and her team" said Baseball Alberta Vice President Jon Oko.
This is a very fluid situation and is subject to change as new information becomes available. Baseball Alberta is currently developing return-to-train protocols to allow for the resumption of in-person baseball activities once it is deemed safe to do so.
RDMBA Update
We share in your disappointment of a lost baseball season and we understand the announcement from Baseball Alberta was not the news any of us were hoping to receive.
To recap Baseball Alberta's statement; given the current Provincial Health orders and restrictions in place, such as social distancing, extended municipal diamond closures (including ours in Red Deer and St. Albert as well), small group limitations as well as limitations on non- essential travel, Baseball Alberta deemed this to be the best course of action to ensure the safety of the membership and in compliance with the Chief Medical Officer. This does not eliminate the possibility of a "return to training" program, when it is safe to do so. It simply means, with these restrictions and closures a traditional playing season wasn't achievable.
We simply couldn't have anticipated or imagined this situation for RDMBA's 40th Anniversary season, nor is it ideal… however we can choose to remain Braves strong! Parents, please encourage your players to continue to practice their skills in your back yard or by taking advantage of online strengthening drills. Players, please don't give up, continue to work out, play catch with your parents or siblings, find creative ways to improve yourself as a player until we can once again be back playing our awesome game of baseball!
RDMBA would like to honor and recognize our 3rd and 4th year 18U players that would've been completing their final season with RDMBA in 2020. Please send us a picture of your player and a few words about their time with RDMBA over the years. If your player wants to write a few words as well that would be great! Please send this to gm@reddeerminorbaseball.com so we can post them to our website and social media.
March 28,2020
It's with very heavy hearts that we write this update… please understand this decision wasn't made easily, it involved a great deal of discussion amongst ourselves and our governing bodies. It has however become glaringly obvious to us all; some things are simply out of our control.
The City of Red Deer has made the difficult decision to include all outdoor recreation facilities in the previously announced indoor recreation facilities closures. The City of Red Deer has announced all baseball diamonds will be closed until June 30th, 2020 at the earliest. Given the duration of this closure and knowing it encompasses the entire Rec / House League season, RDMBA is cancelling our May - June Rec / House League season and issuing full refunds. This includes T-Ball, Rally Cap, Rookie (9U), 11U A, 13U A, 15U A and 18U A. We will begin issuing refunds today, and have them completed as soon as possible. Should your payment have been made by credit card it will be reversed and returned back to your credit card. If you registered your player using cash or cheque, you will receive your refund by cheque in the mail. This method of refund will take a bit longer, please be patient, we will do our best to get this to you as soon as possible. If your mailing address has changed or is different from what we would have on file please send us an email with your correct mailing address. info@reddeerminorbaseball.com
Should this situation improve, and it becomes possible to create a modified Rec / House League season further into the summer / fall, we will do our very best to provide some level of baseball for our many disappointed players. If this opportunity presents itself, we will create a new online registration platform at that time and those that wish to register, can then do so. We will not use your current registration as a credit towards that as it is still very uncertain.
In regards to our Rep / AA and AAA Competitive season, we simply don't have any further information at this time. Baseball Alberta is hopeful for a late start or modified season, but they are also at the mercy of this virus and its everchanging timeline. We will share all pertinent information with you as it becomes available to us.
For all 13U and 11U players that were participating in AAA / AA evaluations when the closures began, we hope to have more information in the coming weeks. We will relay information and any decisions made with you at that time.
As far as NCCP Coach Clinics and NUCP Umpire Clinics they are all cancelled until further notice. Baseball Canada is working on trying to offer these clinics in online versions and once we have more information, we will make that available to you.
We understand this doesn't provide definitive dates or answers to some of your questions, however, we appreciate the emails and phone calls to our office remaining at a minimum as we simply don't have anymore information than we are providing to you today.
Stay safe and healthy our RDMBA families, we look forward to the day we are all on the diamonds again…
Thank you
RDMBA